My next TV sitcom painting falls in line with the previous Celebrity TV sitcom painting of "The Jeffersons" in 2019. "All in the Family" was the TV sitcom that gave rise to "The Jeffersons" as a spinoff. All in the Family featured the prejudices of a white family's household in the character of Archie Bunker, which featured Archie's nemesis, George Jefferson.
"All in the Family" was notable for a lot of things including the fact that it had spin-offs of seven other TV series: "Maude" (1972-78); "Good Times" (1974-79); "The Jeffersons" (1975-85); "Archie Bunker's Place" (1979-1983); "Checking In" (1981); "Gloria" (1982-83); and little known, "704 Hauser" (1994). This controversial sitcom which aired 50 years ago on Jan. 12, 1971, went on to confront numerous issues that hadn't previously been portrayed on television. The show's spin-off series continued to break boundaries with discussions of abortion, alcoholism, and racism.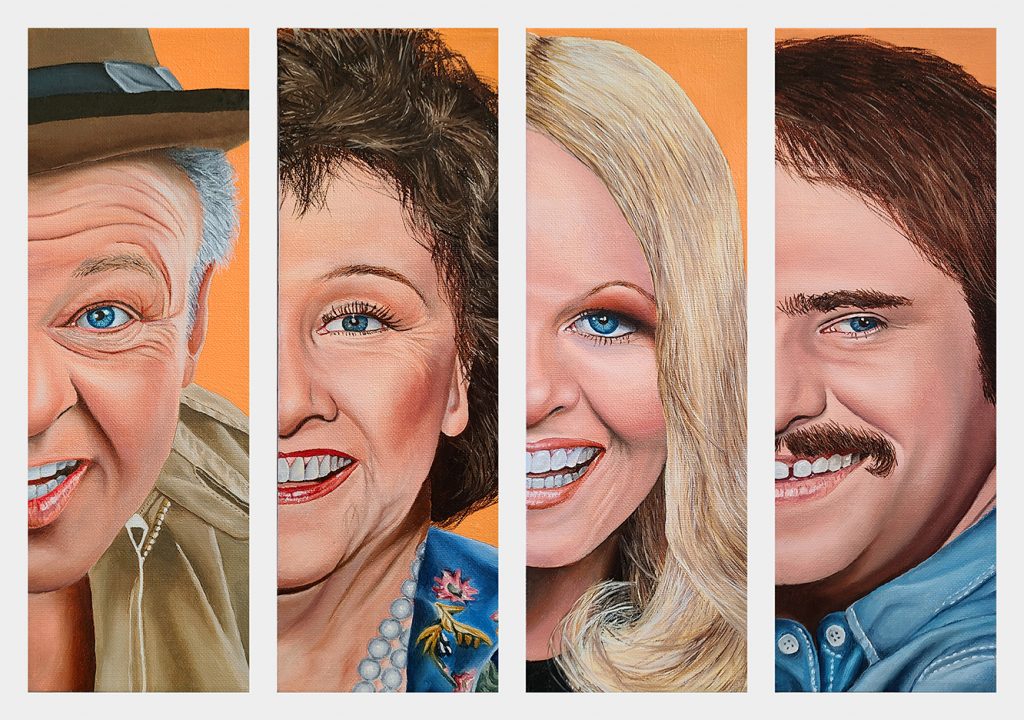 "All in the Family" is often regarded in the United States as one of the greatest television sitcoms in history. The show came about when Norman Lear read an article in Variety magazine on Till Death Us Do Part and its success in the United Kingdom. He immediately knew it portrayed a relationship just like the one between his father and himself.
The show aired on CBS for eight seasons (1971–79) and when Edith, played by Jean Stapleton left the show it continued from 1979 to 1983 under the title Archie Bunker's Place. It won four Emmy Awards in a row for outstanding comedy series. Much of its success came from its frank and satirical treatment of sensitive or important topics, such as race, gender, sex, bigotry, and social inequity.
In painting this set, as in all my TV Sitcom or Celebrity paintings, each individual is on a 4×12 Canvas. Put together they would be 17.5 x 13 leaving a 1/2 inch all around each individually. You can order your full-size print or canvas here under Prints & More. Or you can go directly to my Print on Demand website to order Wall Art, Home Decor, Puzzles, Stationery, and more featuring my painting of "All in the Family".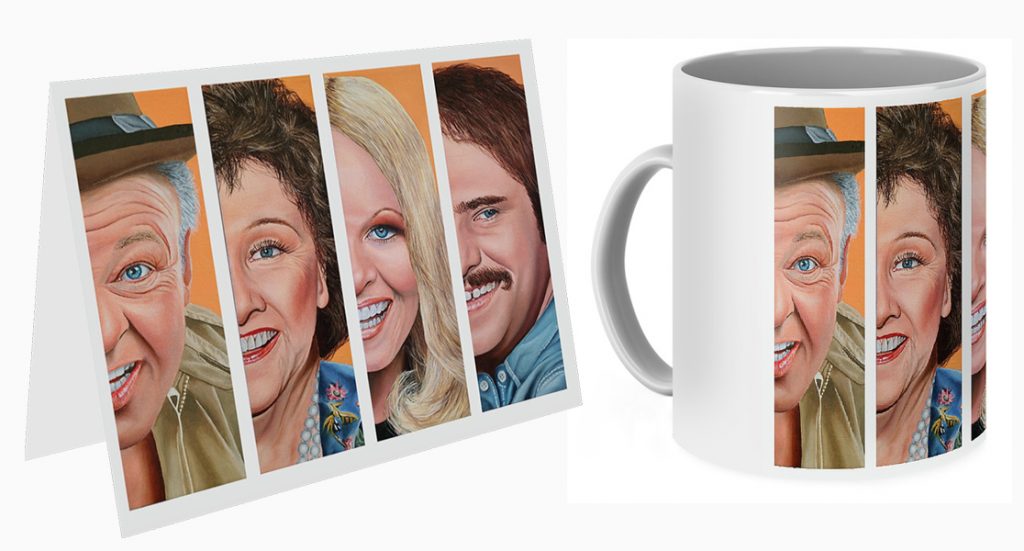 Watch for more paintings coming soon. Next up on the TV Sitcom painting list is America's sweatheart that can turn the world on with her smile! Guess what sitcom in the comment section below!