My voice joins other artists in my latest painting, 45's Obsession. Art, throughout history, has always made a statement and I have tried to make my voice heard through the symbolism used in some of my paintings. I wanted to make a not-to-subtle political statement for my first painting of the year, particularly against this Presidency. One may hold respect for the office but you don't have to respect the resident, especially a childish, narcissistic, authoritarian dictator-wannabe.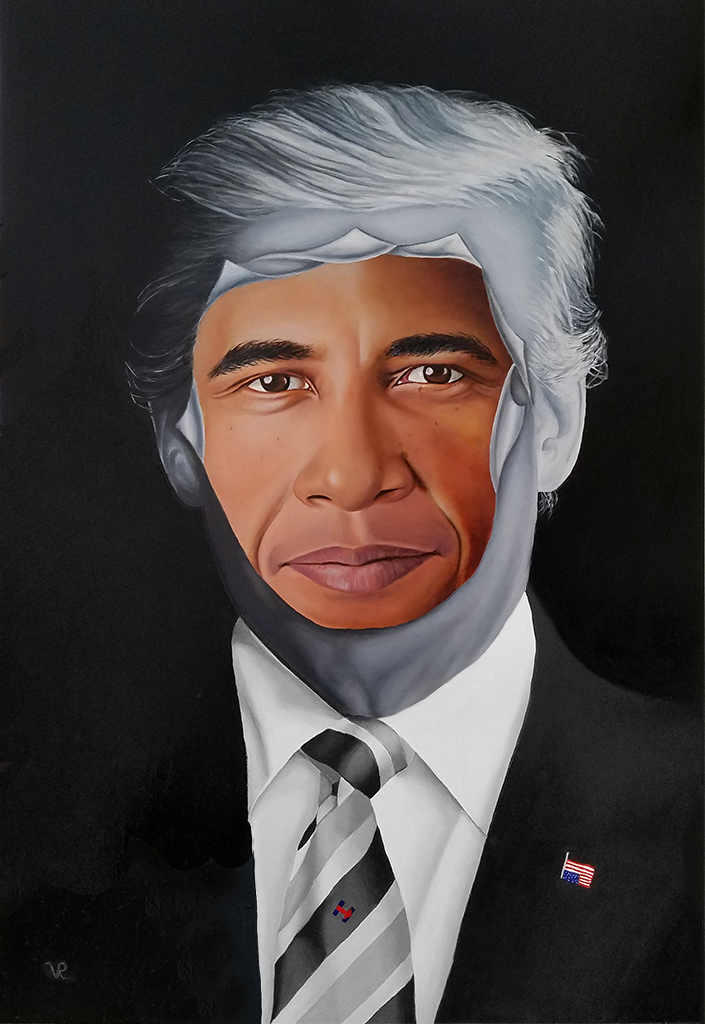 With this painting, I wanted to show what I feel are the real reasons behind the motives and agenda of hate and bigotry of this current president. From the person who defined the "Birther" movement against Obama, Trump has a long history of courting racism. He continues to this day with his comments on "Shithole" countries and remarks about immigrants, continuing his lies and racism. I came up with the idea for this portrait after his remarks about the white nationalists at their march in Charlottesville as being "good people". In every speech at his rallies, he continues to make disparaging comments about Obama and sometimes Hillary as well, even though the campaign is now a part of history.
Artists since before the days of Michelangelo included symbols and messages in their paintings against what they felt as the tyranny of power. Michelangelo was furious at Pope Julius II, who commissioned the Sistine Chapel ceiling work. Michelangelo was a sculptor, not a painter, and was angry to put his sculpture career on hold to paint frescoes. They say that anger caused the artist to paint hidden references on the ceiling to the corruption of the papacy of his time. Right above the place where the Papal throne would sit is the fresco of the Prophet Zachariah. They say it's actually a portrait of the Pope and not the Prophet. Behind him, are little 'putti,' little angels. Michelangelo's true feelings about the Pope and the fact that Michelangelo did not hesitate to present us with messages that might've been offensive insults are hidden in plain sight. One of the putti is doing the Renaissance equivalent of giving the Pope's portrait "the finger." This little angel is giving the finger not to Zachariah, but to Pope Julius II. The ceiling is full of insults, and the hand gesture is seen again in the fresco of the Cumaean Sibyl.
This defiance continues today among artists. Our voice of protest and resistance is being shown in public events, artworks, and performances in the first national Art Action Day and other exhibitions. At the Art Dealers Association of America (ADAA) show, artist Peter Saul displayed two pieces that not only depict an abstract work of Trump but also of the Trump Voter! The artists are not only confined to the United States, even though Trump thinks the U.S. is not part of a global platform. Eric Fischl in his gallery show in London displayed Trump as a clown and handed out posters for the show. Many artists are displaying anti-Trump artworks in galleries and shows in New York and beyond.
This is actually my second piece of political commentary in a painting. My previous painting, The Fallen was an allegorical tale that also contained messages on humanity and this administration.  My current piece is done in black and white, not only to show that Trump's facade is fake but as a person is dull, colorless and devoid of character. The only color in the painting are the real reasons behind his intolerance and division. What bothers him the most is Obama. Obama's face is shown in full color, coming out of a fake President. Obama's legacy will never be hidden behind a mask of deceit and lies. Another annoyance of this president, speaking to his misogynistic side, is Hillary Clinton, who actually had more votes and respect than he ever will. This annoyance is symbolized in the tilt of the tie pin, which is actually Hillary's 2016 campaign logo. Last but never least is what his presidency is doing to America as well as the rest of our world, placing in jeopardy all of humanity due to his greed, bigotry, and intolerance, shown as a symbol of distress in the flag pin on his lapel.
Be sure to get your poster of this intriguing painting or better yet, buy a card or coffee cup for your Trump loving friends and relatives. It makes a powerful statement that maybe they need to think about. Click on Image below for purchase options.