An American icon of TV sitcoms, The Beverly Hillbillies was broadcast on CBS from 1962 to 1971. The series idea was based on an actual family who lived in Beverly Hills, California, the McMurray's. That is about where the similarities end though. The lovable Clampetts were poor Ozark mountain residents who were thrown into the posh city living in Beverly Hills. The series had two spin-offs, Petticoat Junction and Green Acres.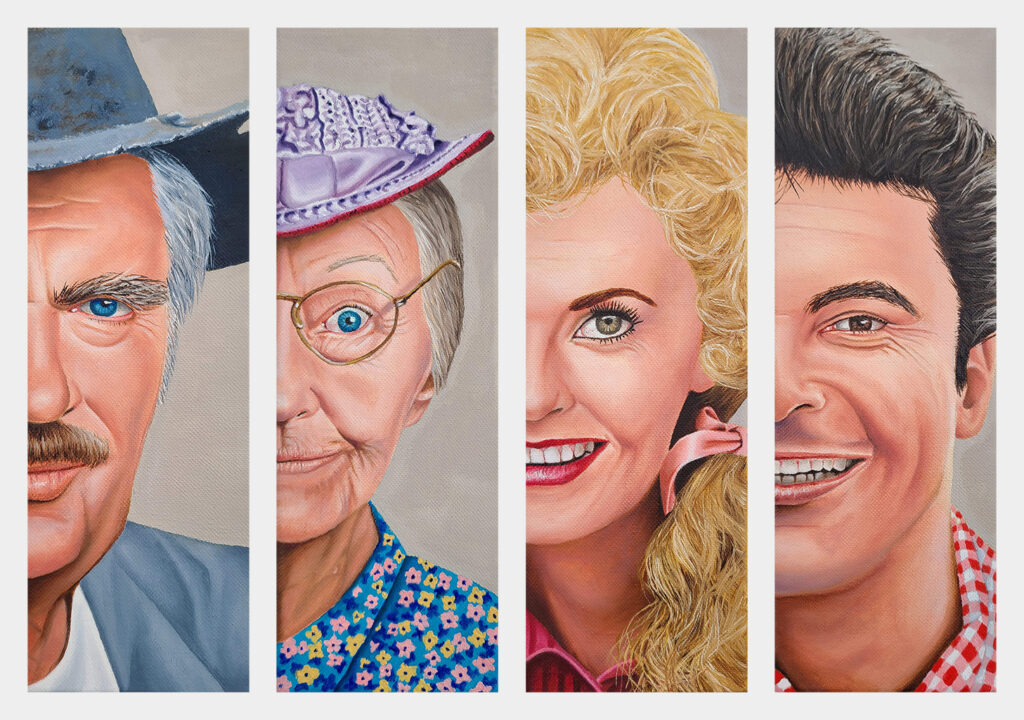 I realize I'm dating myself with these celebrity sitcom pieces. I grew up watching all these beloved TV Shows and want to bring them to life once again. The Beverly Hillbillies ranked among the top 20 most-watched programs on television for eight of its nine seasons, ranking as the No. 1 series of the year during its first two seasons, with 16 episodes that still remain among the 100 most-watched television episodes in American history. The show had seven Emmy nominations during its 9-year run.
The main characters were Buddy Ebsen (1908-2003) who played Jed Clampett, the family patriarch. You might recognize him from his other series, Barnaby Jones. One role that Buddy Ebsen turned down he probably regretted, was the role of The Tin Man in Wizard of Oz. The role of Granny, otherwise known as Daisy May Moses, was Jed's mother-in-law, played by Irene Ryan (1902-1973). The character of Granny was named in honor of the artist, Grandma Moses. Elly Mae Clampett was the only child of Jed Clampett. She was a pin-up girl in a tomboy soul. Elly was played by Donna Douglas (1932-2015). Partly due to her being typecast as her character on The Beverly Hillbillies, she retired from her acting career after the series ended in 1971. Douglas became a real estate agent, gospel singer, inspirational speaker, and author of books for children and adults. The final main character was Jethro Bodine, played by Max Baer Jr. (1937). He is the last surviving member of the show as of this writing. Jethro is the son of Jed's cousin, Pearl Bodine.
The other characters who didn't make it into my painting were the Clampett's Banker, Milton Drysdale played by Raymond Bailey (1904-1980), and his secretary, Jane Hathaway, played by Nancy Kulp (1921-1991). Bailey retired a few years after the end of the series due to Alzheimer's disease. Little known fact, Nancy Kulp once ran for office for a Congressional House Seat in Pennsylvania in 1984. She ultimately lost that campaign partly due to her co-star's radio ad for her opponent in which he called Kulp "too liberal". Kulp never forgave Ebsen after that. Ebsen did finally express remorse for doing the ad and only reconciled shortly before Kulp's death.
Now you can own a piece of memorability from this iconic hit TV Comedy Show. Click below to see how many different items you can purchase from this hit show.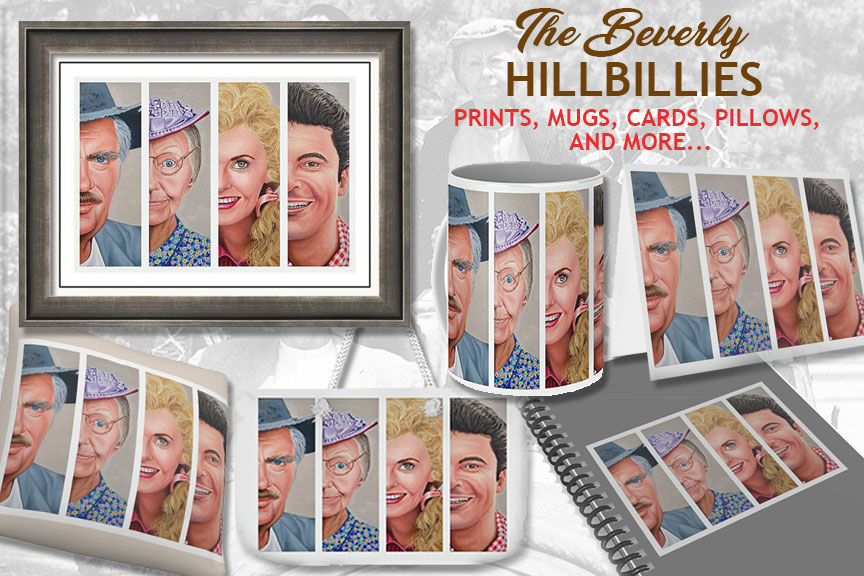 ORDER Your Prints, Coffee Mugs, Totes, Pillows and so much more of this iconic TV Comedy, The Beverly Hillbillies.
Stay tuned for more great old TV Sitcom paintings. If you are looking for other shows, be sure to click below and find even more shows available as Posters, Prints, and Framed Artwork!