Once upon a time, there was a magical TV show called Bewitched. It was a story of a beautiful witch named Samantha who fell in love with a mortal man named Darrin Stephens.
Samantha was a powerful witch who could do anything with just a twitch of her nose. She lived in a world of magic and spells, but she wanted to live a normal life with her mortal husband. Darrin, on the other hand, was a simple man who loved Samantha for who she was, despite her magical powers.
The show was full of humor and mischief as Samantha's family, including her mother Endora and mischievous Uncle Arthur, would often meddle in her mortal life. They would cast spells on Darrin or try to convince Samantha to use her powers for their own gain.
Despite all the challenges, Samantha and Darrin's love for each other remained strong. They faced many obstacles, including disapproving family members and nosy neighbors, but they always found a way to overcome them.
Bewitched was a show that captured the hearts of many viewers. It was a perfect blend of magic, humor, and romance. The show ran for eight seasons and left an indelible mark on the world of television.
In the end, Bewitched was more than just a TV show. It was a celebration of love, family, and the magic of life. It taught us that no matter what challenges we face, love can conquer all.
Own your own piece of memorability from this iconic and Classic TV Show. Click below to see how many different items you can purchase from this hit show, from mugs to cards to even beach towels for the Summer!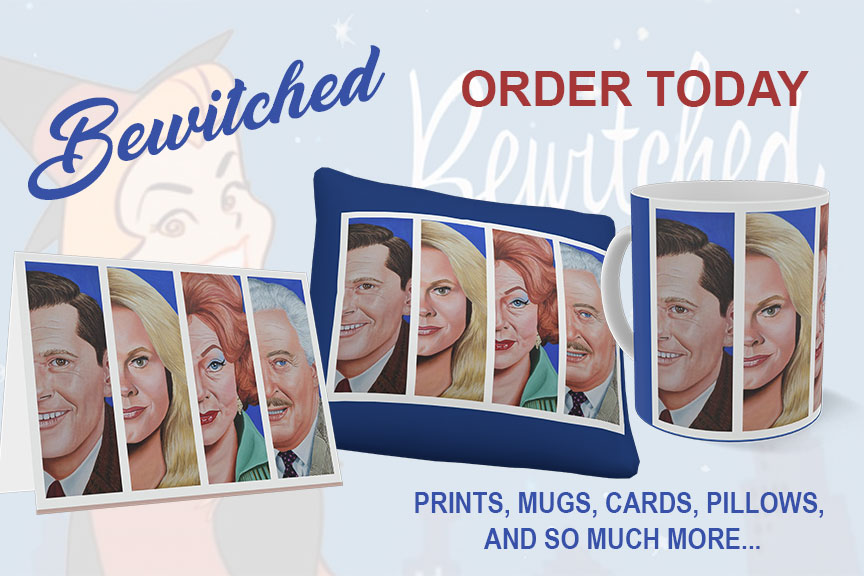 And don' forget there is so much more when visiting my website beyound these paintings! Visit my store for more and stay tuned as there is always something on my easel ready and coming your way soon.