I have just finished my latest celebrity portraits of the TV Show, Friends. Click on the image below to purchase your prints or even Coffee Mugs or T-Shirts of these portraits. Quite a few people have asked how I came up with this idea and why? Where did I get the idea to create portraits only representing or showing half a face and where is it leading me creatively?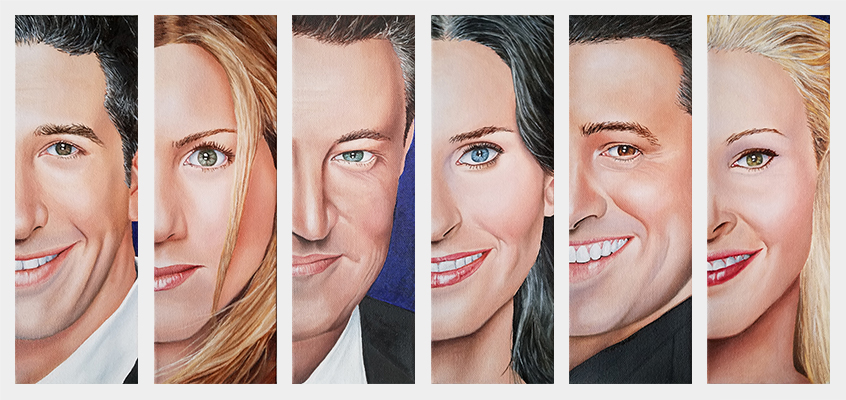 To answer that question, it began with a trip over 5 years ago to Washington D.C. to see some friends. I used to live in Virginia outside of D.C. in the mid-80s until 1990 and spent a lot my time in the museums while living there. It was on one of those return visits that I went to the National Portrait Gallery and they had a pamphlet for an exhibit that pictured only half a face of the complete portraits of Albert Einstein by Max Westfield, Frederick Douglas by an unknown artist, Franklin Roosevelt by Douglas Chandor, and Audrey Hepburn by Philippe Halsman on the front of the brochure which then gave me the idea of painting famous portraits in half-portrait mode.
When I returned to the studio, I made a list of celebrities that inspired me and that I admired which included Marilyn Monroe and Lucille Ball among many others. So it was in 2012 that my first Celebrity portrait was completed and that was of Marilyn Monroe followed by Lucy then Cher among others. All individual celebrity half-portraits. In a way, I thought I would try to show my expertise and see if people could recognize who I was painting by only representing half the portrait.
The following year in 2013 among my regular portrait paintings, I continued these half-portraits which included Whoopi Goldberg who was the host of The View. In October of that year, I was in the audience of the show and took that portrait of Whoopi to the show. I was honored that during a commercial break the painting was taken up on stage so that Whoopi and the cast could see my painting up close. The cast of The View at that time was Whoopi, Sherri Shephard, Jenny McCarthy and Barbara Walters with special guests Diane Sawyer (another one of my celebrity heroes). I was so honored that Sherri Shephard actually wanted to purchase that painting.
I gave out my business cards and followed up with Sherri through her personal secretary. Now let's talk about security, it was next to impossible for a virtual unknown to contact a celebrity even though that person had expressed an interest! She wanted to commission a painting of her and her son and I was more than willing to comply. I thought this could be the beginning of my career painting portraits for celebrities. But, getting through security was another problem that I didn't realize was going to be a problem.
After painting a number of individual celebrity portraits, I thought I needed to expand the theme and include more half-portraits as a complete set instead of individual paintings. So the following year I completed my first set of half-portraits, which was "The Beatles", 2013. It became very popular and I sold many prints as well as the image on Coffee Mugs and T-Shirts!
From there, I have painted nothing but sets, featuring characters from famous movies and TV Shows, including this most recent set from the show, Friends. I enjoy doing these and will continue this series. With my next set up on my easel and painting table, I have almost 50 completed celebrity portraits.
Where am I going with these? Who knows, I may just continue this theme forever. In between my larger portrait paintings, I find it refreshing to complete these smaller paintings. It not only gives me a break from a painting that may take months to complete but also helps my portrait painting skills, not to mention boredom that may come about with facing one painting for an extended amount of time. These smaller paintings typically take no more than 8 hours each (over several days to weeks) to complete instead of months. So they are quick and easy and fun to do.
I may change the size up a bit and I have a few individuals that I may feature the whole portrait instead of half as a diptych as I want to try some gold-leaf on them (think royalty). I may also do a portrait of a famous celebrity using one-panel for each facial feature (one for each eye and one for the nose and then one for the mouth) which could be an interesting contemporary portrait. So stay tuned and follow me on my social media to stay in touch and see where I head with these unique portraits.