My last painting of the year highlights one of the most iconic and ahead of its time TV comedy shows, The Jeffersons. Although this celebrity painting may have not been the first to feature an interracial marriage or couple, it helped highlight the racism that existed during that time in a comedic environment.
As a spin-off of All in the Family which featured the prejudices of a white family's household in the character of Archie Bunker, this sitcom features Archie's nemesis, George, directing his discrimination to his neighbors, an interracial couple whose daughter is dating his son.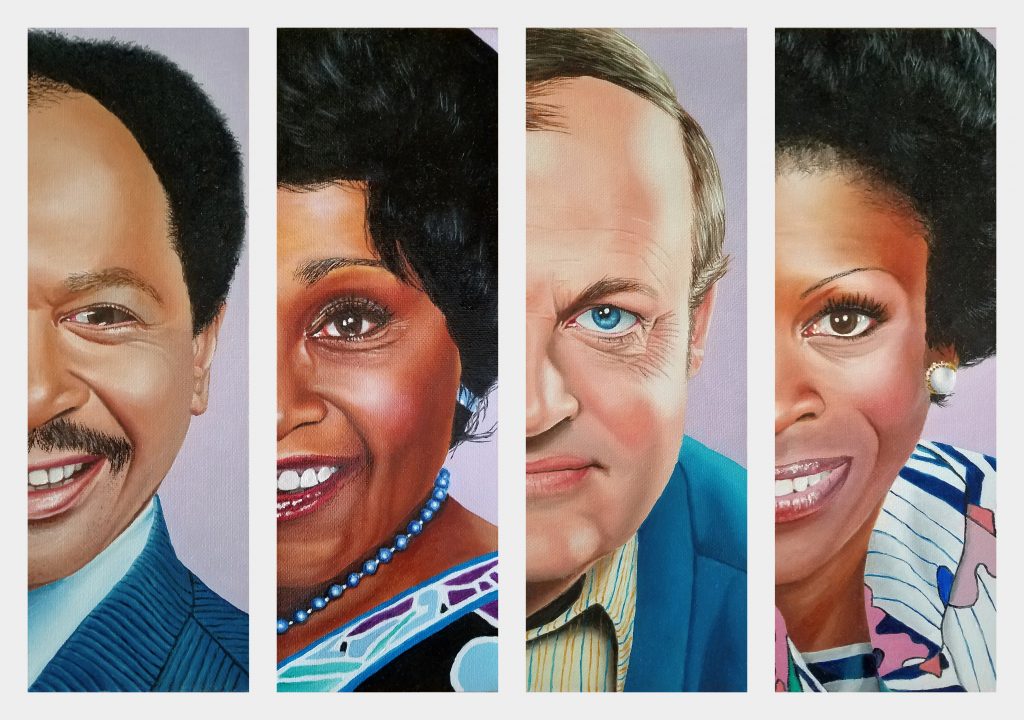 In 1967, the Supreme Court declared anti-miscegenation laws unconstitutional, making interracial marriage legal across the United States. It was just eight years later that this TV sitcom hit the airwaves and broke the stereotypes and brought diversity into America's living rooms.
Shows like this were helping America sort through its conflicted emotions and anxieties about our changing demographics. By that time, the war for civil rights had been waged, segregation was illegal and several cities were in turmoil. Showing an interracial couple on The Jeffersons was considered daring in the early '70s.
Tom and Helen Willis were the neighbors of the Jefferson family and regular supporting characters on the '70s sitcom. While Louise Jefferson (Isabel Sanford) is friendly with them both, her husband George (Sherman Hemsley) initially is hostile to Tom (Franklin Cover) and Helen (Roxie Roker), making crude remarks about their interracial relationship. Despite this, Tom and Helen remained loving towards each other, choosing to ignore these comments. They also had two grown biracial children, including a daughter named Jenny (Berlinda Tolbert) who would go on to marry Louise and George's son, Lionel Jefferson (Mike Evans).
You can now own a piece of this history either as a fine art framed print, notebook, pillow, tote bag, and more. Visit my Prints Page for more information or see other items to Shop Wall Art and Get Inspired.