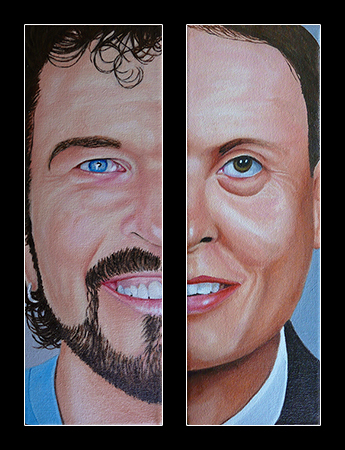 This weekend is the annual weekend of love. Yes it's Valentines Day for those who need reminded. You might be headed out for a nice night out for a candlelit dinner or maybe something more intimate with a gift of flowers or chocolate in the shape of a heart.  You could do all these things which are the usual activities of the day or you could do something truly unique that speaks the words of love without saying a word.  It is said that a picture is worth a thousand words and this is your opportunity to say what is in your heart without speaking.  Surprise the one you love with an intimate portrait that is a unique one of a kind gift. This is something that will be become a cherished heirloom for your family to hand down from one generation to the next!
You can get an original oil painting featuring two portraits in half-face of you and your loved one!  Each portrait is 4×12 and is 1 1/2 depth Gallery wrapped on canvas.  It is ready to hang directly on your wall without the added expense of a picture frame.
Be the featured conversation piece in your home.  Normally an original commissioned oil portrait of this size would be $600 for both ($300 each) but for the month of February only I am offering a 20% discount.  You can get an original unique oil portrait for $480 (excludes shipping and taxes).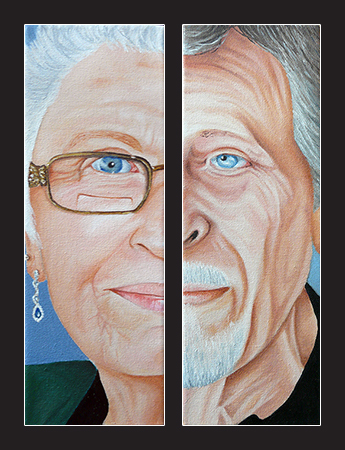 Do you have a birthday for someone coming up or a special anniversary for your parents? This would make a great gift and something that would say how much your care. Create a gift that will transition through the generations to your grandchildren and their children.  You will be remembered throughout the ages with this unique treasure. Your children, grandchildren, and great-grandchildren will love this heirloom.
Create your memory today for only $480 during this month only!  All that will be needed is a quality high definition photo where the individual is facing directly forward.
Just like my Facebook page and message me your interest.  You can pay 50% up front and upon completion pay the remaining balance via PayPal.  Don't delay, this offer will not be repeated anytime during the year.